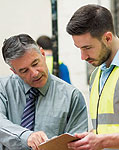 Representatives for trolleys, hand trucks, plastic bins and castors.
It is reassuring to know that experienced Reflex Equip representatives are available to visit your site to discuss the handling of your goods, lifting or storage requirements.
Handling, lifting or storage of materials can often be a daunting task. WH&S, Workcover issues, expense, efficiency and profitability are all key issues in determining "the right tool for the right job".
"Do I need pallet racking or a raised storage area?"
"What sort of drum do I need for hazardous storage and what spill containment systems are available?"
"Do I need a lift table, a jib crane, an electric hoist or perhaps a forklift attachment?"
When faced with questions like these it is reassuring to know that experienced Reflex Equip representatives are available to visit your site, examine the issues, discuss solutions and provide product selection advice.

Our Representatives regularly service the Sydney, Wollongong, Gosford and Newcastle areas and on a less frequent basis, many NSW regional areas.
To arrange a representative to visit your site simply email your details, or phone Reflex Equip on 1300 774 872 and we will arrange a representative to contact you.
At Reflex Equip we pride ourselves in our ability to DESIGN, ENGINEER and BUILD solutions for your materials handling, lifting and storage requirements.
We have been successfully manufacturing trolleys and materials handling equipment for forty years providing us with the experience and ability to meet your requirements.
If our standard range of trolleys, workbenches and mobile storage solutions is not an exact fit to your requirements we will design, engineer and fabricate a solution that meets your needs.
We utilise a wide range of materials and finishes as the situation determines. Whether it is a wet area or sterile environment requiring a galvanised or stainless steel solution. A standard powder coated mild steel fabrication for dry areas, or aluminium or welded and fabricated plastic solution.
Specialised requirements such as a dead man's brake for use on trolleys working on ramps or sloping walkways, locking doors for security requirements, slide-out drawers, removable handles and fold-out shelves have all been incorporated into solutions for our customers.
Other special requirements include static discharge cables along with conductive castors (anti-static) for use on trolleys in the electronics industry, fabricated plastic trolleys for international airlines, spring loaded rising bases for laundry application in different sizes and heavy duty 4000kg rated die trolleys for plastic moulding companies.
Qantas, major retailers Coles and Woolworths (trolleys), the Intercontinental Hotel group, and industrialists BOC Gases and Downer EDI are just some of the companies we have designed custom solutions for.
So whether you're a government department looking for office storage or trolleys, a safety officer thinking about height safety, a warehouse manager researching conveyors or perhaps a tradesman or do-it-yourselfer looking for some storage bins to tidy up your truck or shed, you can be sure that Reflex Equip has the solution.