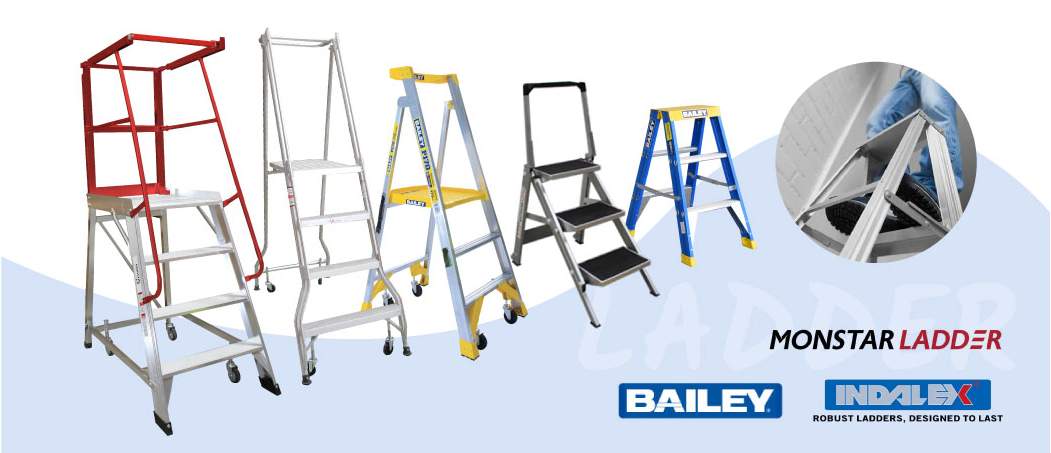 It can be overwhelming having to go through a wide range of ladders and choosing an adequate ladder for your application. Our comprehensive buying guide written by the experts at Reflex Equip will assist you in picking a suitable ladder for your job.
Since Reflex Equip stocks the largest range of ladders from reputable brands such as Indalex Ladders, Bailey Ladders, Monstar Ladders we are confident you will find the right one for yourself.
What to look out for:
Fit for Purpose:
There are different type of ladders available such as:
- Stepladders
- Platform Ladders
- Order Picking Ladders
- A-Frame step ladders or double-sided step ladders
- Single-Sided Step Ladders
- Mezzanine ladders
- Straight Extension Ladders
Identify the application you will be doing first before deciding on the ladders. For example, if you need a ladder to perform stock picking tasks in warehouses, you will need a ladder with a platform. Usually, platform ladders or order picking ladders will come with a secure platform for operators to stand on securely. If you don't require a platform to stand on and will be working with different height levels. You can avoid buying multiple ladders by opting for an extension ladder. An Extension ladder can be used as
a standard A-frame step ladder or used as a straight extension ladder to reach higher places.
Max load capacity:
Every ladder will have the maximum working capacity so it is important to buy a ladder that will exceed your weight as well as the weight of all equipment that you will be using while on the ladder such as spray paint, tools, etc… It is usually a good idea to future proof your purchase by investing in an industrial ladder that has at least 150KG rated capacity Ladder's material: Industrial ladders are made from fiberglass or aluminium. Each material has its pros and cons so knowing what you will be using the ladder for will be very important. Aluminium ladders are a lot lighter, free from rust and corrosion so they can be used and stored outdoor, so it is perfect for trades such as painting, cleaning, DIY. On the other hand, fiberglass ladders cannot withstand outdoor elements, but they do not conduct electricity, and they are the best option for electricians since they will be working around power lines and other dangerous areas that involve electricity.
Selecting the right safety accessories for your ladders: Ladders are dangerous. A fall from a height of 1 or 2 metre can lead to serious injuries or death. It is best to source for ladders that can be enhanced with extra safety features like ladder handrails or
ladder safety gate rails so in the worst-case scenario you can still be protected if an accident happens. If the surface is uneven, do not attempt to use a ladder without attaching a proper ladder leveller level arc to ensure the working area is firmly steady.